In order to protect their emotional stability, narcissists need to surround themselves with people who will give them the narcissistic supply (i.e. validation, admiration, and reassurance) that they need to feel emotionally stable.
The traits that narcissists look for in a partner are optimism, positivity, empathy, a willingness to self-sacrifice, a willingness to forgive others' bad behavior, and loyalty because people with these traits are more likely to support the narcissist despite the abuse and manipulation that they are experiencing.
In this article you are going to learn about the different types of people that typically possess these traits so you can grasp a better understanding of what narcissists typically look for in a partner.
Optimism and Positivity
Overly optimistic and positive people are well-intended but often misguided. Their perception of a beautiful, fair, and just world can blind them from the fact that there are narcissistic people in this world who lack empathy, are manipulative, entitled, grandiose, abusive, and can't change.
Sadly, overly optimistic and positive people are often the biggest narcissist enablers, specifically, pollyanna narcissist enablers.
Pollyanna narcissist enablers believe that everyone deserves to be given multiple chances and they fight tooth and nail to find the best in everyone.
An overly optimistic and positive person's tendency to validate, admire, and reassure everything that the narcissist does is the reason that narcissists love being with them.
Narcissists know that when they are with someone who is overly optimistic and positive, they can get away with anything.
A Quote from One of Our Community Members

"Obviously I didn't know at the time but I know now that I was a pollyanna enabler for my narcissistic mother. It didn't matter what she did, I always believed that she was the best mom in the world and I told her that every day. I remember I broke up with my ex because she called my mom abusive for giving me a black eye.

I convinced myself that my ex had just never been held accountable for her behavior and ended things. I refused to see the truth even when I was being physically abused by my mother." -Jasper
A pollyanna narcissist enabler is just one of three narcissist enablers that you will likely come across in a narcissistic realm. Click here to download our free guide to all the types of narcissist enablers if you want to learn more!
Empathy
The term empathic is derived from the term empathy, which means the ability to understand the experiences and feelings of others outside of your own perspective.
When someone with too much empathy crosses paths with a narcissist, it is extremely dangerous because people who are overly empathic have a tendency to mirror the thoughts, feelings, and emotions of others with the same intensity.
In this context, mirroring refers to an empath's ability to pick up the thoughts, feelings, and emotions of the narcissist and "mirror" them back to them.
In a healthy relationship, mirroring can be a good thing because it can help establish a rapport (i.e. a close and harmonious relationship in which the people or groups concerned understand each other's feelings or ideas and communicate well) between two people.
In narcissistic relationships, mirroring doesn't help the overly empathic person establish rapport with the narcissist at all.
All it does is turn the overly empathic person into the narcissist's biggest source of narcissistic supply (image below).
In addition to this, overly empathic people are much more likely to find ways to justify, rationalize, and normalize the abuse that they are experiencing because they naturally search for the good in everyone.
A Quote from One of Our Community Members

"I spent 21 years of my life trying to support my narcissistic ex-husband because I am an empath. I am proud to be an empath and don't plan on changing that about me. But I did spend months with a therapist learning how to set boundaries with others so I wouldn't get taken advantage of again." – Janine
Brooke White, a PhD Level Clinical Psychologist, Shares Helpful Advice for Empaths Who Are Trying to Protect Themselves from a Narcissist
For the best experience, please rotate your mobile device sideways.
Suggested Reading:
In our article "Why Do Narcissists Like Empaths?" you will be able to find a lot of helpful information that will help you better understand the reason that narcissists search for people who are overly empathic.
A Willingness to Self-Sacrifice
Self-sacrifice means to give up what you want so that other people can have what they need or want. In the narcissistic realm, people who are willing to self-sacrifice are typically referred to as rescuers.
A rescuer is someone who feels the need to rescue/save other people. They take on the responsibilities, burdens, and problems of other people, and they concern themselves with other people's lives, problems, and decisions, more than their own.
Rescuers are notorious for putting themselves in bad situations in an attempt to rescue or save the narcissist. For example, imagine that a narcissist told a rescuer a sob story about not having enough money to pursue their dreams.
It would be very common for a rescuer to hear this and get roped into an incredibly financially abusive relationship because they believe that they can rescue/save the narcissist if they keep giving them money.
A Quote from One of Our Community Members

"I always felt the need to rescue my ex who is a covert narcissist. We grew up together so I saw how abusive his father was and used that to justify my ex's behavior. He knew that I would do anything for him and took advantage of that. It took me 13 years and 100k dollars in debt to figure out that things were never going to get better." – Ally
With all that being said, there are many people out there who self-sacrifice but aren't necessarily rescuers. For example, someone with low self-esteem may self-sacrifice because they don't value their own thoughts, feelings, emotions, and needs.
Either way, narcissists love people who are willing to self-sacrifice because it ensures that their thoughts, feelings, emotions, and needs will be a top priority throughout the entirety of the relationship.
A Willingness to Forgive Others' Bad Behavior
In a healthy relationship, being capable of forgiveness is not a bad quality to have. In narcissistic relationships, forgiveness keeps people trapped within the narcissistic abuse cycle for months, years, and sometimes even decades of their life.
When a healthy person is forgiven for something that they've done, they are able to acknowledge how lucky they are that the person they wronged forgave them and then take steps towards changing their behavior.
When a narcissist is forgiven, they equate it with permission. For example, if the narcissist struck you in the face and you forgave them, they would think to themselves, "I can hit them in the face whenever I want because they forgave me. That means that what I did wasn't wrong."
In other words, forgiving a narcissist's abuse and manipulation will encourage them to do it more often.
A Quote from One of Our Community Members

"My parents never taught me or my siblings about healthy boundaries and because of this I learned that forgiving people was the best way to solve my problems. At least that is the gist of what my therapist is telling me.

When I was married to a narcissist, I was forgiving her cheating on a yearly basis. She had so many different sob stories that she would sell me but would never change.

I still feel bad for leaving her and not giving her another chance but thankfully I am getting the help that I need to see that I am not a bad person for leaving. I am just setting a boundary and that is a new skill for me." -Jackson
Suggested Reading:
Forgiving a narcissist for their bad behavior is dangerous because one of the ways that narcissists regulate their painful thoughts, feelings, and emotions is by invalidating, devaluing, and degrading others. Our article "What Do Narcissists Want In a Relationship?" has a lot of helpful information about this.
Loyalty
Loyalty is the quality of being loyal. Someone who is loyal remains firm in their friendship or support for a person or thing.
We've used loyalty as the last trait that narcissists look for in their partners because anyone who is overly optimistic, positive, empathetic, willing to self-sacrifice, or willing to forgive others' bad behavior, is going to be loyal to the narcissist in their life.
For those whose loyalty comes from a divine space, it can be exhausting and demoralizing to see that their optimism, positivity, empathy, forgiveness, and sacrifices are being taken advantage of.
Generally speaking, the blind loyalty that those experiencing narcissistic abuse have for the narcissist in their life originates from a lack of boundaries.
Setting boundaries is one of the healthiest forms of self-care out there. When you set a boundary with someone, it helps you create a clear set of rules of how you would like to be treated. Healthy boundaries let others know what is and what is not acceptable so you can feel respected and safe.
If you are having trouble setting boundaries with the narcissist in your life, you can click here to download a free guide about setting boundaries with a narcissist that we've teamed up with Andre O'Donnell, M.A, LMHC, a licensed psychotherapist, to create.
What Should You Take Away From This Article?
When searching for a romantic partner, narcissists look for people who are optimistic, positive, empathic, willing to self-sacrifice, willing to forgive others' bad behavior, and loyal. Having someone with these traits in their lives ensures that the narcissist will be able to get the narcissistic supply that they need to feel emotionally stable.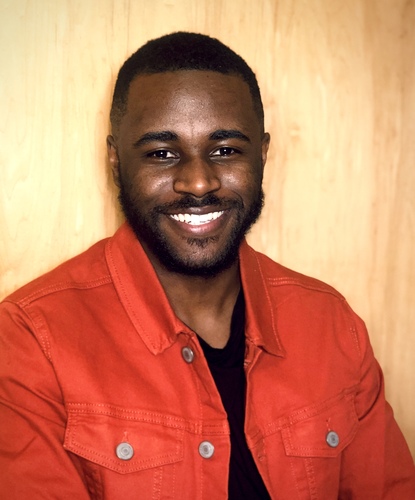 Hey, I'm Elijah.
I experienced narcissistic abuse for three years.
I create these articles to help you understand and validate your experiences.
Thank you for reading, and remember, healing is possible even when it feels impossible.
---
References:
Wurst, Stefanie N., et al. "Narcissism and romantic relationships: The differential impact of narcissistic admiration and rivalry." Journal of Personality and Social Psychology112.2 (2017): 280.
Campbell, W. Keith. "Narcissism and romantic attraction." Journal of Personality and social Psychology 77.6 (1999): 1254.